Aussie trip for Ben Jones in 2019
Northants County's Ben Jones is the youngest player to be selected to represent England on a New Year tour of Australia as he joins five other golfers for the four events in January and early February.
The 19-year-old has been picked alongside Yorkshire duo Bailey Gill and David Hague and Somerset's Tom Sloman, while Oxfordshire's Cara Gainer and Cornwall's Emily Toy are the first women to take part in the annual trip.
Jones will compete in the Australian Master of the Amateurs at Royal Melbourne from January 8th-11th and then the Australian Amateur Championships at Woodland and Spring Valley Golf Clubs the following week.
The teenager, who helped England win the Home Internationals in 2018, then tees off in the New South Wales Amateur Championships at Mona Vale and Terrey Hills Golf Clubs from January 21st.
Jones, who was runner-up in the Portuguese Amateur and fourth in the Chiberta Grand Prix this year, then has an opportunity to follow in the footsteps of Ryan Evans when he plays in the Avondale Amateur Medal at the end of the month.
Wellingborough pro Evans was the last Northants golfer to go on the same trip in 2014 as he completed a successful amateur career by winning the Avondale top prize and also the Lake Macquarie International.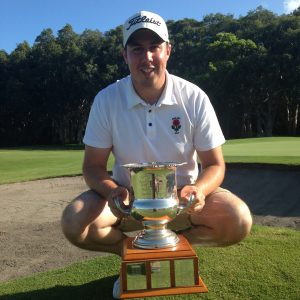 Evans meanwhile missed the cut in his second event on the 2019 European Tour as he carded scores of 72 and 74 in the South African Open.