Group A
Wellingborough made the ideal start to their campaign as they completed a 6-5 away victory against an Oundle side, who claimed four wins and a half in the six ties.
Denis Price and Andrew King (one hole), Chris Potter and Peter Rice (one hole), Guy Fowler and Paul Pateman (two holes) and Barry Watts and Robert Tansley (one hole) were also successful for the hosts.
But it wasn't enough to secure the overall team plaudits as Wellingborough's Nick Clansey and Giovanni Gioia recorded a six-hole victory to snatch the points.
It was a similar pattern in Kettering's home clash with Priors Hall as the hosts took the plaudits 5-3 even though they only won one of the six ties.
With three matches finishing all square and Priors clinching games four and six by the margin of two and one holes respectively, the crucial result came in the opener as Kettering Club Captain Sean Suddards combined with in-form Mark Franklin to triumph by five holes.
Despite losing to their local rivals, the Corby side did have something to celebrate after Paul Fennessy bagged a hole-in-one on the 15th.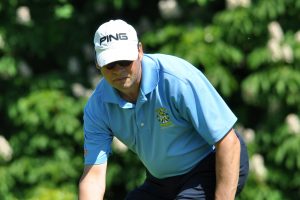 Group B
Collingtree Park defeated Kingsthorpe 16-4 at home as Max Andrews and Kevin Parfitt (six holes) and Mark Cotton and Alistair Biggin (eight holes) found top form for last year's beaten finalists.
Group C
Farthingstone secured the first away victory in Group C as they got the better of Silverstone on their own course by the scoreline 13-3. Northampton comfortably beat Northants County at home.
Group D
Overstone Park fought back from an early deficit against Hellidon Lakes as they secured a 13-3 home victory.
After two halves and a three-hole loss to Hellidon's Roy Trim and Bob Thomson, the hosts took control with a couple of two-hole wins, before Dan Barnes and Martin Barrs confirmed the Overstone victory by claiming the last tie by nine holes.