Northamptonshire Golf Ltd are looking to build on a record breaking season from their various teams as they put together their winter training programme and match schedule for 2019.
The County Men's side won the Anglian League for the first time since 2011, the Seniors completed the Anglian and East Midlands League double and the Girls claimed the Scratch and Handicap Midlands titles in 2018.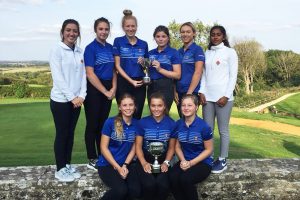 With the Boys team also enjoying regional and national success in previous years, the County are keen to avoid any complacency and are desperate to meet the challenge of repeating those performances.
Mike Gilbrook, who is stepping down as NGL Coaching and Player Development Director in the coming months, says all the players, teams and clubs should be proud of their achievements.
He said: "Northamptonshire Golf has enjoyed great success over the last few years, for a variety of reasons. But it's not a closed shop, and we will always welcome golfers, who have the ability and desire to play for the County.
"If you want to join our success story, please get in touch with the NGL by emailing playerdevelopment@northantsgolf.co.uk."
Northamptonshire have confirmed they will hold all their men's first team fixtures for the next two years at Northampton GC, while Peterborough Milton GC will be the venue for the second team's home games during the same period of time.
The first team, who are looking to appoint a new captain to replace 2018 winning skipper Graham Bott, will begin the defence of their Anglian League crown at home to Cambridgeshire in the second week of May 2019.