Northamptonshire Boys Under-14s team completed a hat-trick of victories in friendly matches this year as they recorded a 10-6 away success over Leicestershire at Beedles Lakes GC.
With wins against Bedfordshire and Cambridgeshire under their belts from earlier in the season and with every hole to count in the five pairs games, Northants edged a tight contest with some gritty golf over the closing holes.
This was particularly the case in the early ties as Jacob Williams and Mark Stockdale took the 16th, 17th and 18th holes to secure a two-hole success in game one, before Elliot Strickland holed the winning putt on the last to grab the second match alongside Jack Peters.
Although that lead was wiped out by the third Leicestershire pair who beat Kai Raymond and Morgan Cresswell, the visitors quickly restored their three-hole advantage as Harry Smith and Euan Herson triumphed.
It was left to the team's youngster player Jadon Pham and debutante Harrison Taylor to complete the scoring as an excellent par on the 18th hole earned a narrow win.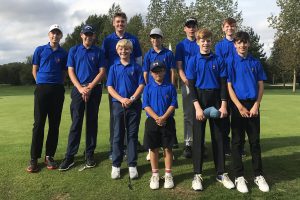 Team: (left-to-right, back) Euan Herson, Jacob Williams (capt), Mark Stockdale, Jack Peters, Harrison Taylor, Kai Raymond. (left-to-right, front); Elliot Strickland, Jadon Pham, Harry Smith, Morgan Cresswell.